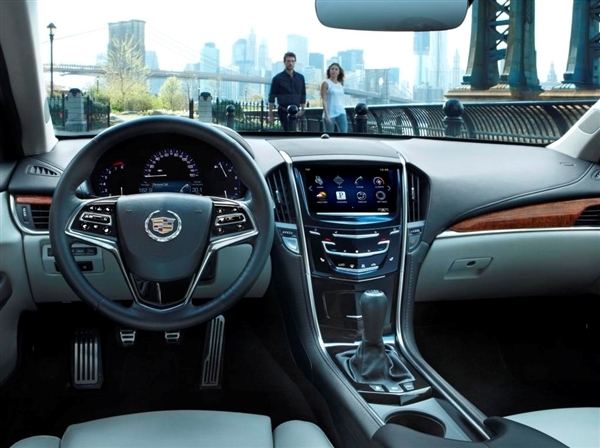 2015 ATS Coupe Receives CUE Collection With New Cadillac App Store
Soon Orlando FL will have access to the CUE infotainment system equipped with app store in the 2015 Cadillac ATS
The CUE (Cadillac User Experience) Collection, provides a built in 4G connection and app store. Vehicles equipped with this technology will provide driver's the ability to download and install new apps for their vehicle, similar to smartphone apps. Some of the apps expected to be included are Pandora, Priceline, TuneIn Radio, NPR and The Weather Channel. The integration of the technology provides quick response and voice command, allowing drivers' to access their favorite apps, hand's free. The first vehicle from Cadillac that will receive the 4G data connection and CUE Collection is the 2015 ATS Coupe, being introduced later in 2014.
Content Disclaimer: 
The above review statements are those of the sponsor (Source of content) and do not necessarily reflect the official policy, position or views of the content publisher. The content distribution company is therefore not responsible for the content and its authenticity and legal standing of the above subject matter. Each individual is required to exercise its content when making a purchase from the above offer. The information does not constitute advice or an offer to buy. Any purchase made from the above press release is made at your own risk. Editorial merit of this content is subject to news publisher and its downstream partners. Consult an expert advisor/health and professional advisor before any such purchase. Any purchase made from this link is subject to the final terms and conditions of the website's selling as mentioned in the above as source. The content publisher and its downstream distribution partners do not take any responsibility directly or indirectly. If you have any complaints or copyright issues related to this article, kindly contact the company this news is about.  
DISCLAIMER of Liability. IN NO EVENT SHALL OUR PR COMPANY BE LIABLE OR RESPONSIBLE TO YOU OR ANY OTHER PERSON FOR ANY DIRECT, INDIRECT, INCIDENTAL, CONSEQUENTIAL, SPECIAL, OR EXEMPLARY DAMAGES OF ANY KIND, INCLUDING WITHOUT LIMITATION, LOST PROFITS OR LOST OPPORTUNITIES, EVEN IF ADVISED OF THE POSSIBILITY OF SUCH DAMAGES IN ADVANCE AND REGARDLESS OF THE CAUSE OF ACTION UPON WHICH ANY SUCH CLAIM IS BASED, INCLUDING, WITHOUT LIMITATION, ANY CLAIM ARISING OUT OF OR IN CONNECTION WITH ANY OF THE CONTENT, INCLUDING, WITHOUT LIMITATION, AUDIO, PHOTOGRAPHS, AND VIDEOS, OR OF THE ACCURACY, RELIABILITY, OR LEGALITY OF ANY STATEMENT MADE IN OR OMITTED FROM ANY advertisement, sponsorship, endorsement, testimonial, opinion, or other product-related or service-related statement or review appearing in the Websites or in ANY post or article distributed via the Websites.